NIESHA | TALLAHASSEE FLORIDA GRAD/SENIOR PHOTOGRAPHER
**Click On Images To View Fullscreen**
Florida A&M University Campus
We journeyed to Florida A&M University's historic Tallahassee campus this mild yet overcast day for the graduation session of Ms. Niesha. We were warmly greeted by her beautiful smile and playful personality as we arrived and began setting up equipment. The task ahead of us was a short grad session incorporating her adorable daughter and wonderful boyfriend, here to help her commemorate the day. We were determined to surpass Niesha's expectations!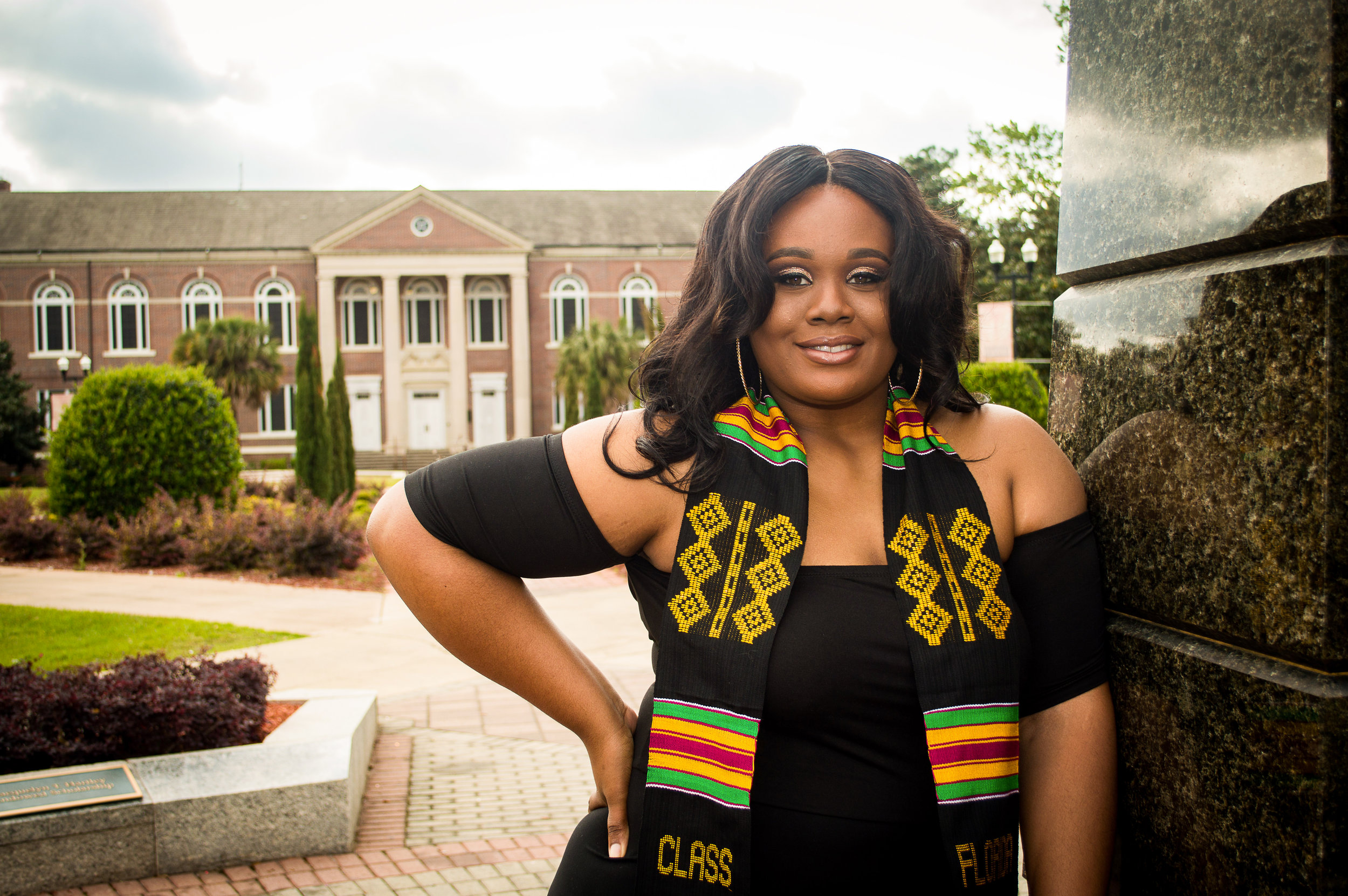 We began the session with several shots near one of FAMU's most iconic locales, the eternal flame. This location provided the perfect backdrop for some amazing closeups that included a perfect view of the historic buildings. Niesha was at ease in front of the camera, giving us plenty of great shots to work with!
After making sure we got plenty of solo shots near the eternal flame for Niesha to choose from, we started working in her shoot's co-stars. Her adorable little daughter quickly became the main attraction with her infections laughter and directly contrasting serious expressions. We proceeded to have quite the interesting struggle trying to get a smile from her for the camera. It certainly took all our cunning and negotiation skills, but we managed to get a few gems from the little miss! We also got dad in to a few shots, showcasing the beautiful support system surrounding the lovely Niesha on her journey to graduation.
We continued the shoot with some more georgous shots of Niesha near FAMU's prestigious fountains. Getting a beautiful smile out of Niesha was easy as pie, and we captured several great shots quickly.
We finished Niesha's shoot on the new FAMU roundabout with the sun setting in the distance, the beautiful scenery that is FAMU's campus enhanced by the natural lighting. The roundabout once again gave the opportunity to Niesha to grab some solo shots, this time silhouetted in the warm light. Niesha changed into a lighter dress, hopped on top of the sign, and we got to snapping! These shots came out beautifully, with the golden hue accentuating Niesha's bright smile. We were so happy to wrap the shoot up so well, and to later delight Niesha with the beautiful outcome. Another day, another satisfied rattler!